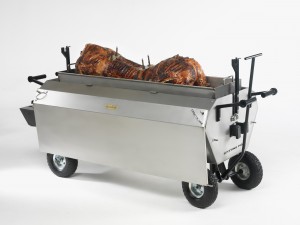 Purchase our most popular accessory for your Platinum used hog roast machine – our Hog roasting kit. This is essential if you want the maximum capacity from your machine. It is basically a large tray that sits in the upper cooking area, it allows you to cook a large pig and other meat cuts so you can feed hundreds of people at a time! One 70kg pig can see you feed 300 people alone. If you're in the business of large scale catering, this add-on is for you. The hog roast kit is not only great for cooking pulled pork, but for roasting other meat (beef, lamb, chicken) and vegetables.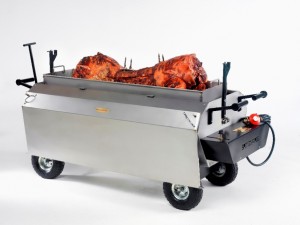 Once your meat has been cooked within the upper cooking level, use the support bars to raise your hog for carving. Putting in the service position not only gives you ease of access but allows your guests to see what you're doing – a real spectacle and all part of the joy of hog roasting.
We have designed this hog roast kit so it couldn't be more straightforward to use. Great for if you are new to hog roasting. With over 50 years in the business, we're happy to help if you have any questions. Just get in touch!