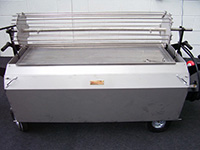 Take a look at our brilliant chicken spit extension kit which will help take your used hog roast machine to the next level. Enjoy the tradition of rotisserie cooking, with this spit pole accessory that can roast up to 36 chickens in one go. It's a real show piece that all your guests will love to peer at. They can do this through the Platinum's toughened glass viewing window. It can also be used to cook beef, pork legs and turkey in a rotisserie fashion.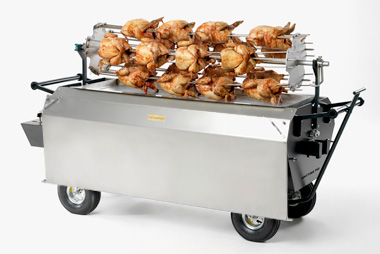 To make the most of our chicken spit set you will need to use the motor, pole and carving tray of our original spit roasting set. Once your meat has been cooked, use the support bars to raise the rotisserie where you can detach each arm to deal with the carving task a few chickens at a time. Once carved, the heated carving tray works as a hot plate to keep your meat up to temperature before serving.
With over 50 years in hog and spit roasting, we have a wealth of experience in getting the best results. If you want any tips on how to use your machine or have any queries about our accessories, just get in touch today.